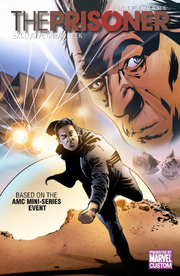 The Prisoner: exclusive sneak-peek was a one-shot comic-book based on the (at the time unreleased) 2009 television miniseries The Prisoner. The AMC/Marvel comic features the likenesses of Ian McKellen and Jim Caviezel, and provides an illustrated first-look at scenes based on the premiere episode, "Arrival". It was distributed free-of-charge at the July 2009 San Diego Comic-Con and was subsequently published in PDF format on AMC's official website along with three posters.
Links
Ad blocker interference detected!
Wikia is a free-to-use site that makes money from advertising. We have a modified experience for viewers using ad blockers

Wikia is not accessible if you've made further modifications. Remove the custom ad blocker rule(s) and the page will load as expected.