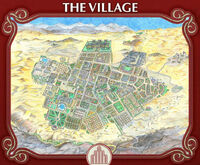 The Village is the primary setting for The Prisoner. Its location and much of its origin are unknown. In the 2009 remake, the Village is located in the middle of a desert, instead of by the sea, though it was later revealed that this version of The Village does not exist in reality, only in a virtual reality computer environment. The area that was used for filming was Swakopmund, Namibia.[1]
References
Ad blocker interference detected!
Wikia is a free-to-use site that makes money from advertising. We have a modified experience for viewers using ad blockers

Wikia is not accessible if you've made further modifications. Remove the custom ad blocker rule(s) and the page will load as expected.